Ride the Rockies 2005
sponsored by the Denver Post
What is Ride The Rockies? (RtR)
The Denver Post Ride The Rockies is an annual bicycle tour that takes 2,000 cyclists on a 6-7 day ride on paved roads through Colorado's Rocky Mountains each June.
The Ride The Rockies route is different each year, but always climbs a few challenging mountain passes and showcases Colorado's spectacular scenery. Daily rides can be as short as 35 miles or as long as 100 miles, but generally average 60-65 miles.
Ride The Rockies registration is conducted on a lottery basis.
---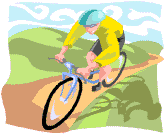 I went on Ride the Rockies (RtR) by myself this summer. Instead of parking my car in Breckenridge and then taking the shuttle bus to the start at Grand Junction, I loaded up my touring bike and pedaled to Grand Junction, a trip of about 200 miles. Not to take anything away from the RtR, which was great, I enjoyed my three days on the bike to get there as much or more than the tour itself. It probably helped that got to ride on two of the country's premier bike trails, and after I crossed Vail Pass, it was all downhill. It also gave me three extra days to adjust to the thin mountain air. Maybe some of the excitement had just worn off by the time I got to Grand Junction. About half the pictures I took were in these first three days, and I could've taken more!
Getting there Gallery (6 pics)
---
RtR is a week long tour. The first day of the tour was through National Monument was great. I saw for myself some of the scenes in the movie,
American Flyer
. The second day was the hardest day on a bike that I ever remember, certainly the only day that brings a tear to my eyes whenever I remember it. Why was it so hard? 30 miles straight up at 4-5 miles an hour, no shade, a hot sunny day, and no breeze. Did I mention the thin air? I had to stop just to take a sip from my camelback. If I didn't stop, after the sip, I'd still have to stop just to catch my breath. Over 500 riders of the 2,000 on the ride got a lift at least part way. Maybe I should have been one of them.
Ride the Rockies Gallery (8 pics)