The Camel's Heart:
From Fitness to Death in the Adirondacks
by Jack Papa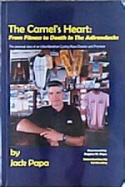 This 500 page plus book is non-fiction about bicycle ultra-marathoning in New York. I know Jack, and stayed at his house in 1989 in preparation for the RAAM Open East qualifier. I didn't actually ride in it that year, but I did crew for Cathy Ellis in the race. Not only did she qualify, but she also competed in RAAM later. I made a number of trips to New York, for both 24 hour marathons and RAAM qualifiers and did finish one of my own qualifiers there. I can't say that I know Jack real well, but I have seen him enough to respect and love him. He is a wonderful person.
The book is about how Jack used bicycling to get fit. His story parallels mine, although he's just a little older than me. One thing led to another until he was riding in marathons, and then managing them. I first met Jack in 1987 in Capron, Illinois, at the RAAM Open Midwest. Because our stories overlap somewhat, I'm even mentioned in his book (but not much). The book evoked a lot of fond memories for me.
Unfortunately, his race directing ended when not one, but two bikers were killed by drunk drivers in separate accidents during the same race. I wasn't at that particular race, and didn't find out about it until months later. My heart would have been broken, too, if someone had been killed during a race I directed. I know from personal experience that Jack is big on safety, and the accidents were not a result of anything Jack did or did not do, they just happened.
Read the book, and feel the excitement of racing. Perhaps you can relate to his story like I did. I enjoyed each and every race I did, whether or not I finished, and for me, the race was anti-climatic. I enjoyed the training as much or more than the races themselves. The journey was more fun than the destination.
You can order this book from"
Jack Papa
13 South Market St.
Johnstown, NY 12095