TEAM TAILWIND
Tour of North Texas 1994
by Roger Nelson
I QUALIFIED!!!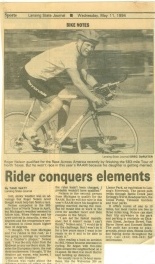 This story appeared in the Lansing State Journal on Wednesday May 11, 1994.
What you don't know is that I posed for this picture in Lansing, not during the race. Also, my coach told me to call up the newspaper and give them this story - a good biker needs publicity. So that's what I did and that's why the story was printed. The editor rewrote the story somewhat, but did a pretty good job of telling how I qualified for the Race Across America.
Click on the top part to see the picture, click on the bottom part to see the whole article.
What the article doesn't say is that in 1994 we had a miserable cold spring, and living in Michigan makes training hard. Because of the bad weather, I couldn't get in the training that I would have liked. The week before the race, I rode my bike from my house up to Mt. Pleasant, a 200 mile round trip (for a 580 miles race) and it was so cold the water in my bottle froze on the way back at night.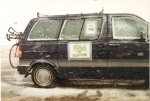 The previous year I'd been in Texas for the race and I remembered sunny warm weather, it was beautiful down there, and I was so looking forward to getting out of Michigan and enjoying some sunshine. The day or the race, however, a cold front moved in from the north and there was record low temperatures in Texas. I was really ticked off. Shortly after the race started, there was a cold rain, and that turned to snow. But sometimes anger is a good motivator, and I just made up my mind I was going to keep riding as long as I could. My crew helped a lot, and we cut up garbage bags and taped them on me so I could keep warm and reasonably dry. Then race officials came by and said that anyone who finished would qualify since so many people dropped out due to the weather. The next day it warmed up, the snow was gone, and I was in shorts and a t-shirt. I was happy and still in the race.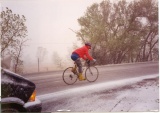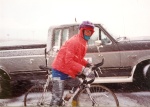 A big obstacle in this race was Palo Duro Canyon, about 50 miles from the finish line. During the middle of the night we came to a canyon, and one of my crew played his bugle for me as I crossed this canyon. I should have known it wasn't Palo Duro Canyon (my crew had never been there before, although I had). But being tired I wasn't thinking clearly, and since it was dark and everything looks different at night, and even though the milage wasn't right, my crew believed it was Palo Duro Canyon and they had me believing it too. I had planned on pacing myself until I crossed the Canyon and then riding hard the last 50 miles to the finish, so I started riding really hard. The problem was, I had a lot further to go than 50 miles. When I finally got to Palo Duro Canyon, I was already spent. Just before the finish line there was one last steep hill, and I was so tired, I walked up. I did finish the race on a minimal amount of training, but I'm in a lot better shape at the end of summer. Too bad this race isn't held in September.
.