The Gospel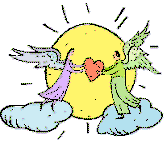 I Corinthians 15:1-4. "Now, brothers, I want to remind you of the gospel I preached to you, which you received and on which you have taken your stand. By this gospel you are saved, if you hold firmly to the word I preached to you. Otherwise, you have believed in vain. For what I received I passed on to you as of first importance: that Christ died for our sins according to the Scriptures, that he was buried, that he was raised on the third day according to the Scriptures, . . ." (The New International Version is used for all quotes.)
Notice that of first importance is Christ died for our sins. This implies that we are sinners. Even if we are basically good people, every one of us has sinned at some time. Who hasn't taken the Lord's name if vain, at least once? Who hasn't stolen something, at least once? Who hasn't dishonored the Sabbath, at least once? None of us has kept the Ten Commandments totally and completely throughout our whole life. Ecclesiastes 7:20 says "There is not a righteous man on earth who does what is right and never sins."
But Christ died for our sins. This means that he paid the penalty for our sins. 2 Corinthians 5:21 says, "God made him (talking about Christ) who had no sin to be sin for us, so that in him we might become the righteousness of God." Christ took our sins upon himself along with the accompanying penalty, so that we do not have to take that penalty. He was our substitute. In Isaiah 53:6 we read, "We all, like sheep, have gone astray, each of us has turned to his own way; and the Lord has laid on him the iniquity of us all."
Christ was crucified, dead, and buried. The good news (gospel) is that Christ was raised from the dead, and walked among people for 50 days afterward and we seen alive by many witnesses, and was seen to ascend to Heaven where he lives today on the right hand of God. If there is no resurrection, then our faith is worthless. But there is a resurrection, and we can live for eternity in Heaven because the penalty for our sins has been paid and there is forgiveness.
What must a man do to go to Heaven? Keep the Law. Deuteronomy 8:1 says, "Be careful to follow every command I am giving you today, so that you may live…." Ooops. It's too late, we've all broken it.
It's a good thing Christ died for our sins, we can be forgiven, we have a choice. One can accept God's love and forgiveness by His Son Jesus Christ, or one can reject God's love and regret it for eternity. What's your choice? Will you receive this gospel, take your stand on it, believe in it, and trust Christ for forgiveness of your sins like the Corinthians did? If so, please contact me so I can pray for you and share in your joy. If you are not sure or have questions, please contact me and share your concerns with me. I will pray for you. May God bless you.