Preserving Clovers
When you find a 4-leaf clover, you may wish to preserve it. I put it in my wallet until I can get it home and then spread the leaves out nicely and put it in a book to dry. After it has dried for a few days, before it turns brittle (you don't want it totally dried) I put it between two pieces of clear shipping tape. If the leaves are too wet, they will turn brown even though they're encased in tape.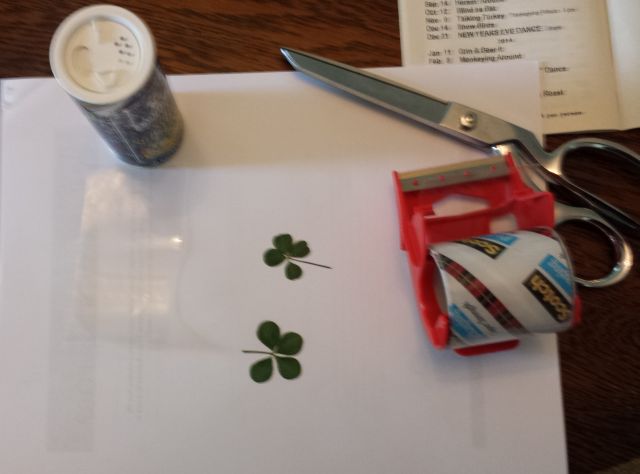 Get out the tape, scissors, and the clovers. The clover should have been pressed in a book for several days so it's pretty dry, but not brittle. If it's not dry enough, it will turn brown between the tape. If it's too dry, it'll come apart. I dry mine for about a week.
I've already peeled off a strip of tape. The salt shaker is just to hold the tape down while I'm working.
Most packing tape comes in a 1.88" width and works for the small clovers.
Duck brand makes a clear packing tape in 3" width, but I haven't found it in stores. It can be ordered.
An alternative is to use clear shelf paper, or contact paper. It will work for the big clovers but it is not as clear as the packing tape.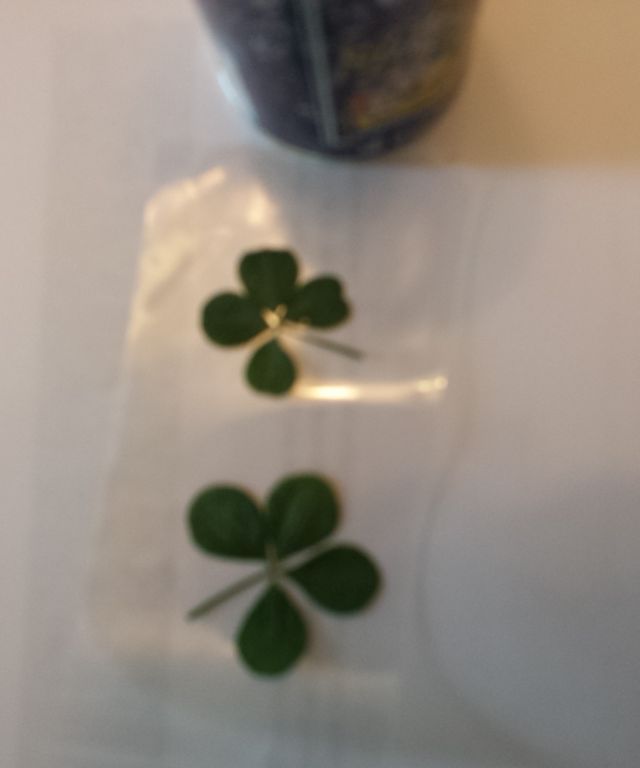 Lay the clovers on the tape and press them down.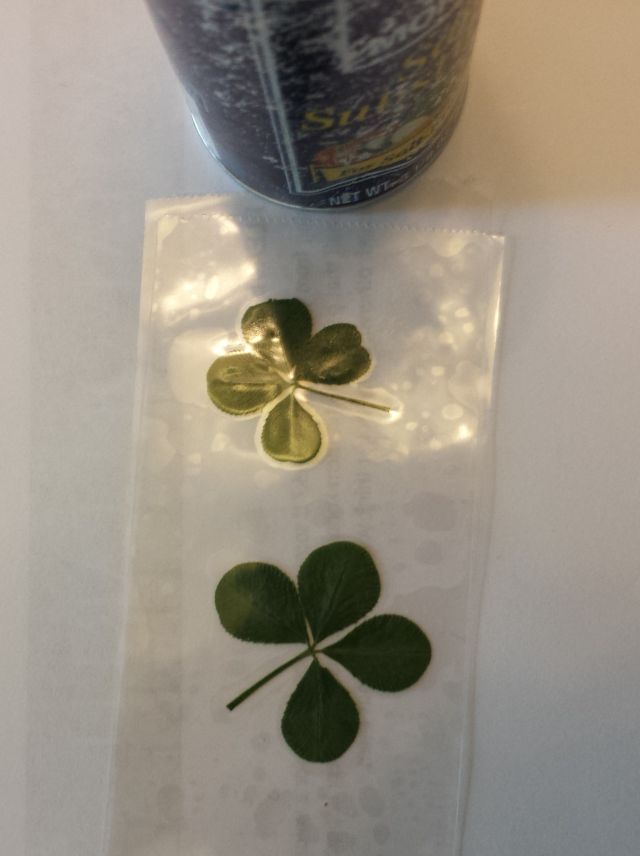 Carefully lay another strip of tape on top of the first strip, enclosing the clover.
Cut the enclosed clovers out. The tape should preserve them and keep them green for a long time.
Sometimes with field clover, the clover is wider than the packing tape. You can get laminating paper at Office Max that comes in 8 1/2 x 11 sheets and use it the same way. It doesn't require a machine to heat it, you peel the back off and stick it.
I also tried using clear shelf paper, but it has a matte finish and doesn't look as good. It's not as clear as packing tape.