OTHER BOOKS
by CAROLE NELSON DOUGLAS
---
The Exclusive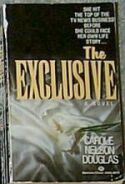 1986 Story about the daughter of a well respected newspaper editor. She goes into journalism at college and then into reporting for television. The girl is super intelligent and pretty, does a great job, but feels like she is overlooked because she is a woman in a man's world. She ends up taking a lower paying job at PBS so she can do the kinds of things she wants. I am not convinced. The problems she feels she has are the same kind of problems I have on my job, and I am a man. I feel sad at the end of the story, her father dies, she doesn't get along with her step mother, and she has no other family. She is optimistic at the end of the story because of her new job, but I feel that she is only kidding herself. I felt sad at the end because she has no family and no serious relationship with anyone, just a career to look forward to and I feel she sacrificed her life for her career. But that's my viewpoint. You might feel different. I think CND is trying to strike a positive note for women with this story.
---
Marilyn: Shades of Blonde
1997 This book is an anthology, a collection of short stories from various authors about Marilyn Monroe, all fiction. Marilyn was born June 2, 1926 and died August 5, 1962. Her death meant very little to most of the authors who were just kids in 1962; they did research to find out about her life and make up a story about her. Some of the stories are good. I especially enjoyed the stories about Marilyn saving Nikita Khruchev from an assassination attempt and about Marilyn appearing on Mount Rushmore. CND wrote "Sunset: A Monologue in One Act" about her.
---
Midnight Louie's Pet Detectives
1998 A collection of 17 short stories by various authors, this time with a variety of pets/animals from elephants to hamsters. A black cat named Midnight Louie appears in one of them, CND's "Baker Street Irregular". These pets, unlike Midnight Louie, do not always take an active part in solving the mystery.

back to Midnight Louie short stories
back to Irene Adler short stories
---
White House Pet Detectives
2002 A collection of 14 short stories by various authors with a variety of presidential pets in or the White House, including a bear, dogs, horses, alligators, a parrot, a mockingbird, and of course, some cats, all written from the animal's viewpoint.
back to Midnight Louie short stories