MIDNIGHT LOUIE
by Carole Nelson Douglas
Catnap - Pussyfoot - Blue Monday - Crimson Haze
---
Catnap
Midnight Louie discovers a body at the American Booksellers Association convention, and there are two missing cats. He risks his tail to save them and help Temple Barr discover the murderer. Temple Barr first appears in this book.
Victim:
Chester Royal murdered with a knitting needle. Solved
---
Pussyfoot
Showgirls start showing up dead at a stripper convention. Temple is attacked in a parking ramp by Max's enemies and was the object of an attempted murder later. Midnight Louie is there to help out.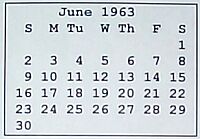 We find out that Temple is born in the middle of June in 1963, on a Friday, and she's a Gemini. Gemini is May 22 - June 21. I guess that narrows it down to the 7th, 14th, or 21st.
Victims:
Dorothy Horvath (Glinda North). Solved
Katharine (Kitty) Cardozo. Solved
twins June and Gypsy (May) Standish (Gold Dust Twins). Solved
Also Temple finds out that a man's body was found in the Goliath in an unauthorized crawl space the night Max disappears. Unsolved.
---
Cat on a Blue Monday
Temple is conned into working at a Cat show put on by the Fancy Feline Club. She also takes self defense lessons from Matt. An old lady who rescues stray cats is murdered. Matt listens to a priest. Midnight Louie meets Midnight Louise aka Caviar. Temple wins my heart. Fantastically romantic ending.
Victim:
Blandina Tyler was pushed down a stairs. Solved
---
Cat in a Crimson Haze
Temple arranges a combination "blessing of the beasts" and cat give a way for Blandina's cats at Our Lady of Guadalupe. She gets a PR job with the Crystal Phoenix and later with the new restaurant, Three O'Clock Louie's at an obscure site, Temple Bar, on the north side of Lake Mead. And Crawford Buchanan cons her into writing for the Gridiron, a satire show on Las Vegas, like a celebrity roast. Midnight Louie meets his dad, Three O'Clock Louie. Caviar's name is officially changed to Midnight Louise. Temple is making progress with a relationship with Matt. Guess who shows up.
Calla and Canna Lilies
This is the book where Midnight Louie starts napping under the canna lilies rather than the calla lilies as in previous books. Canna lilies can grow 5 feet tall and have foot wide leaves - big enough for Louie to hide under. Calla lilies only grow about foot and a half tall, probably not big enough for Louie to hide under.
Victim:
Cliff Effinger - fell out of ceiling at Crystal Phoenix onto a craps table, similar the the body in Pussyfoot at the Goliath. We find out in later books that this is not really Cliff Effinger, but someone else with Effinger's ID. Not solved.
Robbery: cash stolen from the Goliath - solved.