MIDNIGHT LOUIE
by Carole Nelson Douglas
Diamond Dazzle - Emerald Eye - Flamingo Fedora - Golden Garland
---
Cat in a Diamond Dazzle
Electra Lark invites Temple to a Romance Writers convention, G.R.O.W.L (Great Reader's Of Wonderful Literature). Stuart Weitzman sponsor's a contest for some Austrian crystal covered pumps with a black cat on the heel. Midnight Louie pumps. Temple looks all over town for the prize. Temple's Aunt Kit Carlson (pen name Sulah Savage) comes to town. Matt discovers that maybe the body identified as Cliff Effinger is not the real Cliff Effinger, the fingerprints on file with the police don't match. Max meets Molina in her dressing room at the Blue Dahlia. Midnight Louie, in addition to providing vital clues, also ousts Maurice and lands a cat food commercial contract with Yvette. It is interesting to note that CND works in the titles of her own romance books into the story, 1. Lady Rogue, 2. Fair Wind, Fiery Star, 3. Amberleigh, 4. Azure Days, Quicksilver Nights, 5. Crystal Days, and 6. Crystal Nights.
Temple's family
Aunt Kit Carlson (aka Sulah Savage, real name Ursula Katherine)
Siblings: Cindy, John, Bob, Larry, Temple is the youngest, both parents still alive.
Victims:
Charlie Moon
(Cheyenne) is stabbed with an arrow. Solved
Fabrizio is stabbed with a prop knife. Solved.
---
Cat with an Emerald Eye
It's Halloween and there is a Psychic Fair at the Oasis. Temple gets an assignment to attend a séance at a haunted house and one of the psychics dies. Is it murder? There are three more séances and the case is solved at the last one. ML is warned to watch out for Maurice. Matt thinks he sees Cliff Effinger. Max takes Temple to his hideout. A major theme is Houdini and related topics about mediums and the supernatural.
The séance
Going clockwise around the table, the attendees at the first and last séance are: Oscar Grant, Mynah Sigmund, Electra Lark, William Kohler, Temple Barr, Edwina Mayfair (or Sophie), Crawford Buchanan, D'Arlene Hendrix, and Agatha Welk.
Victims:
Maurice One, the spokes-cat for Yummy Tum Tum Tummy cat food, appears to Midnight Louie in a séance
Garry Randolph, (disguised as Edwina Mayfair, psychic) aka The Great Gandolph. Solved - maybe. See Neon Nightmare.
---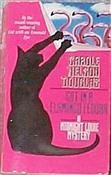 Cat in a Flamingo Fedora
Midnight Louie, wearing a pink fedora, stars in filming cat food commercials. The artist, Domingo, comes to Las Vegas to put up 900,000 plastic flamingos as art. Temple is asked to help him get permissions from the businesses involved, to pave the way for him. Darren Cooke, a famous entertainer and womanizer dies from a gunshot to the head. Suicide? Maybe. Three attempts are made by Maurice Two to kill (or at least injure) Midnight Louie. In seeking to have an interlude with the Divine Yvette, ML is captured and ends up with a vasectomy. Temple gives Savannah Ashleigh a fat lip and solves a death officially listed as suicide.
Victim:
Darren Cooke, entertainer. Solved.
---
Cat in a Golden Garland
Temple spends the Christmas holidays with her aunt Kit in New York while trying out with Midnight Louie for a cat food advertising career. Kitty O'Connor gives Matt a lead on his step father. Matt catches up with Cliff Effinger (who claims to be Clint Edwards) and then goes home to Chicago for the holidays, where he sees his mother (Mira Zabinski), a cousin (Krys), and various other family members. Midnight Louie finds Santa is murdered in a chimney at the Colby, Janos, and Renaldi advertising agency's Christmas party. Max surprises Temple in New York with an opal ring.
Victim:
Rudy Lasko, a Viet Nam veteran posing as Santa. Solved.