MIDNIGHT LOUIE
by Carole Nelson Douglas
Pink Pursuit - Quicksilver Caper - Red Hot Rage - Sapphire Slipper
---
Cat in a Hot Pink Pursuit
Mariah wants to enter a 'Tween Queen contest. Threats have been made. Molina coerces Temple to enter the Teen Queen (for older kids) in order to keep an eye on Mariah and protect her. She uses the alias of Xoe Chloe Ozone. Louie unmasks the perp.
Victims:
Tiffany Cummings
, teenager, solved
Marjorie Klein, dietician, solved
Beth Marble, show's "guardian angel", solved
---
Cat in a Quicksilver Caper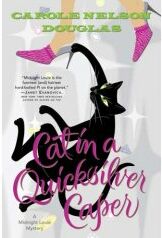 Temple gets a PR job for the New Millennium and their Russian display which includes the Czar Alexander Scepter, which Max has been assigned to steal in order to get into the Synth. Max has been severely strained with his job at the Neon Nightmare as the Phantom Mage, with making arrangements for the theft, and trying to infiltrate the Synth. Aunt Kit comes to visit Temple and is seeing Aldo Fontana. Temple is torn between two lovers as Max is gone most of the time and Matt keeps coming on to her with help from Danny Dove. On top of it, Molina thinks Max is stalking her and is obsessed to get him. It's a good thing Midnight Louie is on the job or things would be really screwed up.
Victims:
Art Deckle (Andrei Dechynevski) - strangled. Solved.
Shangri-La (Hai Ling) - falling from sabotaged equipment. Unsolved.
Russian mob - caught
Max Kinsella, Another possible victim - unsolved.
---
Red Hot Rage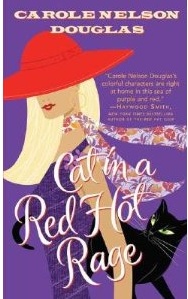 Temple Barr wants to dump Max, but can't find him. She is PR person for a Red Hat convention and Electra Lark becomes prime suspect in a murder at the convention. Her Aunt Kit shows up and gets engaged. Max has mysteriously disappeared, not even a body. His house is vacated and a new women appears to be living there, but a couple of days later, all Max's belongings are restored and the woman is gone. Perhaps Max's disappearance was all an act. Temple links Shangri-La with Kitty O'Connor, both dead, or are they? Lt. Molina gets slashed. Temple makes plans with Matt. In the meanwhile, Midnight Louie is making arrangements for Ma Barker's feral gang of cats to be fed at the Circle Ritz.
Victims:
Oleta Lark
, wife of Electra Larks former husband, a red hatter, killed with scarf, solved
Elmore Lark
, poisoned but recovered, Electra's former husband, solved
Kit Carlson
, Temple's aunt, strangled but rescued in time, solved
Natalie Newman
, also strangled, solved
---
Sapphire Slipper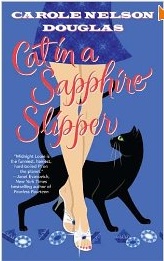 Aldo is going to have his bachelor party with all his family and Matt. Their limosine is hijacked by the brother's girl friends for a good time and they are taken to a brothel out in the desert, the Sapphire Slipper, where they are disarmed and helpless. A woman is murdered then, Matt is the prime suspect but they are all in trouble. They call Temple in to solve the case before the police arrive, not an easy task with 13 courtesans and 8 girl friends. Aldo marries Kit Carlson at a lavish wedding in the Crystal Phoenix. Molina recovers from her slash wound and thaws some toward Rafi Nadir. Meanwhile, Max, who has no memory of who he is or how he got there, after finding a friend in Garry Randolph, meets Dr. Revienne Schneider at the clinic where he is recovering. An attempt is made on his life so he and Revienne escape. Revienne disappears.
Victim:
Nonah Rudinski, strangled, solved